10-12-2011, 04:35 AM (This post was last modified: 06-24-2013, 09:06 PM by Kashif Manzoor.)
The Oracle Fusion Application is based on service-oriented platform and joins next-generation enterprise technologies, applications, and services, including Oracle Fusion Middleware.
Using the latest technology and incorporating the best practices gathered from different Oracle's customers, Oracle Fusion Applications is a suite of open standards-based business applications that provide a new standard for the way businesses innovate, work and adopt technology. Delivered as a complete suite of modular, service-enabled enterprise applications. Whether it is one module, a product family, or the entire suite, Oracle provides businesses with their choice of all advancements pioneered by Oracle Fusion Applications, at a pace that matches individual business demands. Its technology framework includes the following products:
Oracle WebCenter

provides design-time and runtime tools for building enterprise portals, transactional websites, and social networking sites.

Oracle Business Intelligence 11g

provides a full range of business intelligence capabilities that enable you to analyze, present, report, and deliver organizational data.

Oracle Universal Content Management

enables us to leverage document management, Web content management, digital asset management; and records retention functionality to build and complement your business applications.

Oracle SOA Suite

provides a complete set of service infrastructure components for designing, deploying, and managing SOA composite applications. Oracle SOA Suite enables services to be created, managed, and orchestrated into SOA composite applications.

Oracle WebLogic Server

is a scalable, enterprise-ready application server based on Java Enterprise Edition (Java EE).

Oracle JDeveloper

is an integrated development environment with end-to-end support for modeling, developing, debugging, optimizing, and deploying Java applications and web services.

Oracle Enterprise Manager

offers business-driven applications management, integrated application to disk management, integrated systems management, and support experience.

Oracle Identity Management

enables organizations to manage the end-to-end lifecycle of user identities and to secure access to enterprise resources and assets.
Oracle Fusion Applications Architecture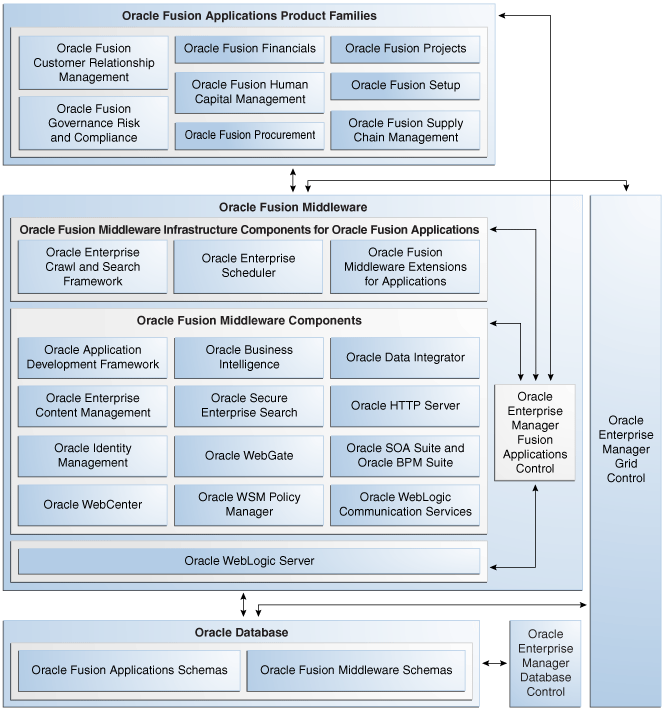 Oracle Fusion Applications includes the following product families, or collections of products that are associated with a functional area:
Oracle Fusion Customer Relationship Management

manages customers, contacts, and resources, including data quality configuration.

Oracle Fusion Financials

manages financial flows, including assets, ledgers, cash cycle, invoices and payments, accounts receivable, collections, and setup of subledger accounting and tax configuration.

Oracle Fusion Governance, Risk, and Compliance

integrates business intelligence, process management, and automated controls enforcement to enable sustainable risk and compliance management.

Oracle Fusion Human Capital Management

provides employee management for an organization.

Oracle Fusion Procurement

manages the procurement process including requisitions, purchase orders, and supplier negotiations.

Oracle Fusion Project Portfolio Management

manages projects, including how to plan, budget, forecast, collect costs, bill customers, and report performance.

Oracle Fusion Supply Chain Management

integrates and automates all key supply chain processes, from design, planning, and procurement to manufacturing and order fulfillment.

Oracle Fusion Setup

is a special product family for supporting the other product families
You can access Blog on this article:
http://oraerp.com/blog/oracle-fusion-app...hitecture/